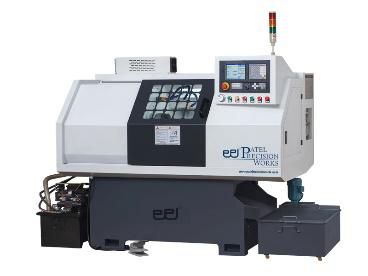 Almost every component in every machine is more or less made from lathe machines. Lathe machine plays a crucial rolein making sophisticated machine components. Different types of lathe machines are used for different machining purposes. Majorly used to remove metals from a workpiece to provide desired size and shape.


In woodturning, metal spinning, glass working and metal working lathe machines are broadly used. Lathe machine is broadly known as "Father Of All Standard Machine Tools". Advanced technology has modified the lathe machines. The work efficiency and functionality of the modern lathe machines have increased far more than its previous generations machines.
Terminologies Of Lathe Machines:
A lathe machine consists of various types of parts. Headstock, Bed, tailstock, carriage, saddle etc are the prime parts of a lathe machine. The machine runs on an electric current. Different jaw chuck lathes are available like three-jaw chuck, four jaw chuck, magnetic chuck and collet chuck.


Turret and Capstan lathe is the oldest lathe but with the help of technological advances there are several lathe machines are available. Center lathe, speed lathe, toolroom lathe and CNC lathe machine are a few examples of modern machines. These lathe machines are well capable of delivering superior RPM, providing precise finishing of the job and time efficiency makes these lathe machines primary workhorse for machine component making.
Operations Performed In Lathe:
Various operations like centring, facing, knurling, drilling etc is performed. But before that, the workpiece or the job is loaded and locked on the spindle of the lathe. Some of the important operations are mentioned below:
• Centring: To produce a conical hole in the job or in the workpiece this operation is used. Job is held between Head-stock and tail-stock.
• Facing: It is used to produce a smooth flat surface with the axis of operation of the job. The job is held with the help of a three-jaw chuck or four-jaw chuck. And then the job is rotated to the desired RPM and fed perpendicular direction to the tool attached.
• Turning: Excess material is removed in this operation to obtain a cone-shaped or cylindrical surface. With the help of a three-jaw chuck or four-jaw chuck, the job is held in a proper place. The job is also fed perpendicularly to the tool for removing the excessing materials.
• Knurling: For effective gripping, a rough surface is produced in this process, Knurling tool is held rigidly on the tool post and pushed against the job locked in the chuck of the lathe. The tool creates a facsimile of the tool on the surface.
Apart from the major operations lathe machine also performs different operations like cutter, shaper, sander and deformer. For precise cutting, shaping or sander lathe machine has no alternates for ages. CNC lathe machine suppliers in India is witnessing a surge in demand in recent years.


These types of lathe machines are well capable of performing different operations in a precise manner. Computer Numerical Control lathe machines made human life easy for their fully or semi-automatic operating conditions. Only Feeding digital or numerical values to these lathe machines will deliver precise results just in time.