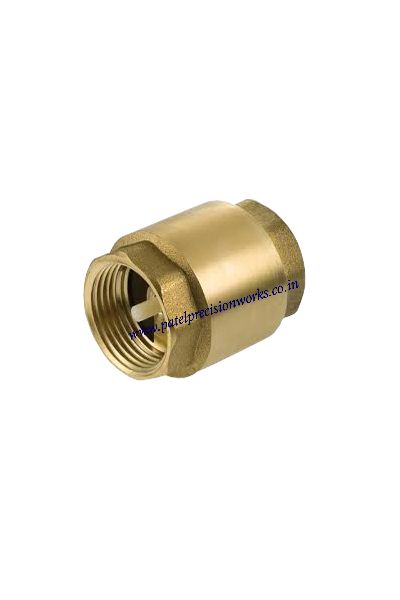 A non-return valve, also known as a check valve, clack valve, one-way valve, or retention valve, is a valve that allows fluid to flow in only one direction, preventing liquid or gas from returning back upstream. We'll look at how a NRV valve works and what it's used for, as well as some of the applications where you might find one.
A vertical NRV valve body usually only has two openings, with a closing component in the middle. The pressure of the fluid entering the valve keeps the closing mechanism open. If the fluid tries to return through the valve in the wrong direction, the closing member is pulled back over the valve's entry, blocking the flow.
The majority of non-return valves are controlled by the media flow itself, rather than by a person or an external control.
WHAT ARE THE APPLICATIONS OF A NON-RETURN VALVE?
Pumps: Non-return valves are used in many pump applications to avoid backflow on both the intake and exit lines of the pump head. Check valves are commonly installed on feed pumps for steam boilers, as well as metering pumps, which are used to maintain a flow rate at a certain outlet pressure. They're also used in chromatography, which is a process for separating components of a mixture in the laboratory.
Industrial processes: Non-return valves are commonly used in fluid and processing systems, such as those found in power plants and medicines, as well as fuel systems for transportation. In the nuclear sector, non-return valves are utilized in dump lines, nitrogen feed systems, and regions where water control systems are used. In fuel injection systems, non-return valves are employed; the injectors are essentially check valves intended to work with a high opening pressure and would be found in aviation fuel systems as well as on spacecraft where the launch vehicle would use them in the propulsion propellant control.
Domestic uses: Non-return valves made by NRV valve manufacturers in India are used in a variety of domestic applications, including home heating systems, sprinkler systems, and inflatable mattresses. The non-return valve can be an important safety feature in specific situations, such as preventing contaminated, used water from reentering a home water supply.
The main valve systems includes:
Swing check valves are only intended for horizontal use. The stopper "swings" open to allow flow when fluid pushes it in the right direction. It will close if flow moves in the opposite direction. Because gravity may impact the function of the swinging motion, the check valve cannot be used in vertical applications.
Vertical NRV valves are suitable for a variety of applications. They have a spring system that closes the Disc when the operating fluid pressure is insufficient to keep it open. Backflow is prevented by closing the valve when fluid pressure is applied rearward.
The company's finest engineers research industrial valve applications and functionalities before designing highly task-oriented solutions. The check valve is a self-closing valve that opens with forward flow and closes with reverse flow, preventing backflow. The Non-return valve exhibits minimal turbulence even at high pressures and temperatures. The best Industrial NRV Valves Manufacturers in India buy their raw materials and components from reputable suppliers. They assure the safety and good sealing of each valve by putting it through a battery of tests.